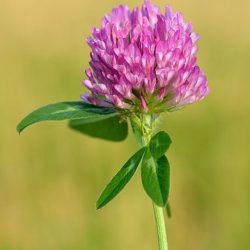 Pros: Red clover is a plant cultivated in many parts of the world. It is a widely used ingredient in supplements that claim to help alleviate menopausal symptoms.

This is largely due to the phytoestrogen content of the plant and the compound coumestrol in particular.

As a phytoestrogen, this compound has activity on estrogen receptors in the body. However, there is debate surrounding the effectiveness of red clover in effectively alleviating menopausal symptoms.

One study from 2009 concluded that red clover was indeed effective in reducing the frequency of hot flashes in postmenopausal women (1).

Following 109 postmenopausal women over the age of 40, the researchers also found that the group using red clover had lower overall menopausal intensity, according to something called the Kupperman Index.

In addition, a 2017 study of 62 peri-menopausal women found that red clover isoflavone treatment helped alleviate hot flashes (2).
Cons: The evidence on red clover paints a mixed picture, with some studies showing improvements and others showing little or no improvement at all.

A large study (Jeri AR) conducted on postmenopausal Peruvian women found that red clover isoflavones had little to no effect in alleviating symptoms.

A review of earlier studies in 2006 concluded that red clover isoflavone extracts did not reduce the frequency of hot flashes. The researchers also found mixed results for women using soy isoflavone extracts (3).

However, a more recent review of the evidence concluded that red clover may indeed reduce the frequency of hot flashes. Nevertheless, the researchers rightly pointed out that more research is needed (4).

Because of the phytoestrogen content, women with a history of breast cancer should consult their doctor before starting on any red clover supplement.
Bottom Line: Overall, we see a very mixed picture emerging of red clover's effectiveness in helping to reduce hot flashes. It is clear that more high-quality research is needed before we can draw firm conclusions.

Nevertheless, studies have shown red clover to be largely safe even when taken for periods of up to a year. It may be worth a try, particularly if your hot flashes and night sweats are a severe problem in your life.

Red clover is a commonly found ingredient in most of the popular supplements targeted at menopausal women.