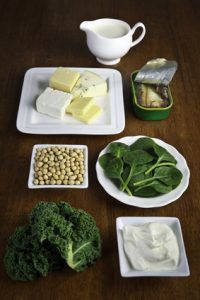 This helpsheet aims to equip you with everything  you need to know about your calcium requirements in menopause.  We cover the different types  of calcium available, the main dietary sources and much more.

You probably know that one of the unfortunate health consequences of early menopause and premature ovarian failure (POF) is an increased risk of osteoporosis — the weakening and loss of bone (source).
Likewise, you also probably know that making sure you get enough calcium is one of the most widely recommended ways of helping to keep your bones strong.
But there are so many different forms of calcium out there — and so many different opinions, claims, and so forth… it can be very confusing.
Let's start with the basics: getting enough calcium is a definite must where bone-building is concerned.  But many of us don't get nearly enough calcium. The National Institutes of Health recommends that if you are in menopause, you should get at least 1,000 mg of calcium a day if you are on hormone replacement therapy (HRT), and 1500 mg if you aren't.
But this recommended dosage doesn't just refer to calcium; it refers to elemental calcium.  In plain English, this is the amount of calcium that is available to actually work in your body. This is one reason why, if you opt for calcium supplements, it's wise to read the labels carefully!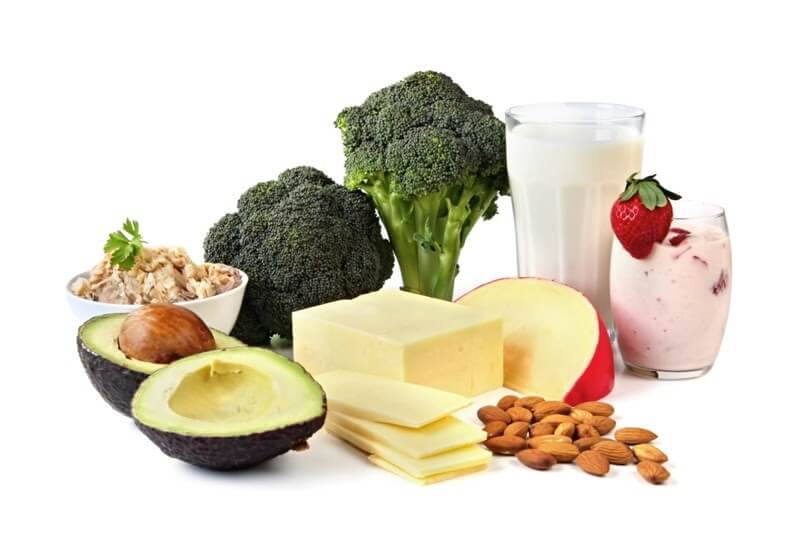 Just because the label says the calcium supplement has, say, 1250 mg, doesn't mean that this is the amount of elemental calcium in it. Often the label will list the elemental calcium; other times it's not mentioned. So to be sure you're getting the calcium you need, it makes sense to know what percentage of elemental calcium is in the different forms of calcium available.
There's more about this in our explanation of calcium supplements below.  But before you get to that step, you first have to determine how much calcium you're currently getting.
Take a look at your daily diet to see if you can and should up your calcium intake through the foods you eat. In general, your best bets for calcium-rich foods are non-fat or low-fat dairy products, salmon, sardines with the bones, green leafy vegetables and tofu.
Good Food Sources Of Calcium
Dairy Products
| Type | Serving Size | Mg of Calcium |
| --- | --- | --- |
| Non-fat yogurt | 1 cup | 450 |
| Low-fat yogurt | 1 cup | 415 |
| Ricotta (part skim) | 1/2 cup | 335 |
| Non-fat or low-fat milk | 1 cup | 300 |
| Whole milk | 1 cup | 290 |
| Swiss cheese | 1 oz. | 270 |
| Cheddar cheese | 1 oz. | 205 |
| Mozzarella (part skim) | 1 oz. | 200 |
| Muenster cheese | 1 oz. | 200 |
| American cheese | 1 oz. | 180 |
| Feta cheese | 1 oz. | 140 |
| Cottage cheese | 1 cup | 135 |
Other Foods
| Type | Serving Size | Mg of Calcium |
| --- | --- | --- |
| Sardines (in oil, with bones) | 3 oz. | 370 |
| Blackstrap molasses | 2 tbsp | 300 |
| Calcium-fortified juice | 1 cup | 300 |
| Figs, dried | 10 medium | 270 |
| Black beans, dried | 1 cup | 270 |
| Collard greens | 1 cup | 270 |
| Salmon (canned, with bones) | 3 oz. | 200 |
| Broccoli | 1 cup | 170 |
| Farina, cooked | 1 cup | 145 |
| Spinach (cooked, drained) | 1/2 cup | 130 |
| Tofu | 1/2 cup | 130 |
| Apricots, dried | 1 cup | 100 |
| Tahini | 1 tbsp | 85 |
| Almonds | 1 oz. | 70 |
But What If You're Not Getting Enough Calcium From Your Diet Alone?
Perhaps you're a little inconsistent on it… some days, you do get enough; other days, you're not reaching your target. Well, when you're dealing with the possibility of osteoporosis, you can't afford to be casual about calcium consumption.
So if you think you're not getting enough calcium in your diet each day, you have two choices in this case: either start religiously eating calcium-rich foods… or take calcium supplements.
Because those of us with early menopause and premature ovarian failure (POF) are at such a high risk for bone loss, calcium supplementation usually makes a lot of sense. It's easy — and you can be assured that you're getting a certain level of calcium.
It does get a little confusing, though, when it comes time to choosing the optimal calcium supplement. There are so many out there all purporting to do the same thing, but there are differences between the different forms.
Calcium Supplements: Rules of Thumb
•    It is a good idea to take your calcium twice a day, inside of in one dose, because your body can absorb only 600 milligrams of elemental calcium at a time.
•    Do not take calcium with iron, because it interferes with its absorption.
•    Also avoid taking calcium supplements with high-fiber meals or bulk laxatives, as they can cut down on the amount of calcium you absorb.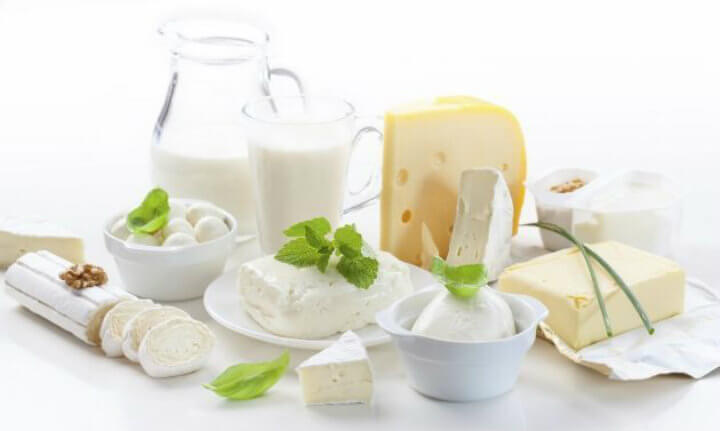 •    Be sure that your calcium is actually doing what you're paying for by putting your tablets through this simple absorbability test… Drop one tablet in a small glass or bowl with white vinegar and stir it every few minutes.
After fifteen minutes to half an hour has passed, the pill should have disintegrated. If it hasn't dissolved in the vinegar, it won't dissolve in your stomach either — making it essentially useless. In this case, you should get another brand or try another form.
•    Where calcium is concerned, you can  get too much of a good thing. Over 2,000 milligrams a day of elemental calcium may pose problems for your kidneys. So if you have had kidney stones or have a family history of them, talk to your doctor before taking calcium supplements.
To make calcium work well, you need other vitamins and minerals to help it along. Some of these are available in combination with calcium.  Others are in multi-vitamins or trace mineral compounds, or you can take them individually.  Finally, of course, can get them through a well-balanced diet.
Where you get them isn't really the issue; the key is being sure you are getting them to get the most out of your calcium intake. The calcium helpers, then are: